Home
>>
Products
>>
DVR
>>
LCD AHD/NVR/DVR Combo
>> HK-S0704M, HK-S0708M
7inch AHD/NVR/DVR With Built-in LCD Monitor
Model #: HK-S0704M, HK-S0708M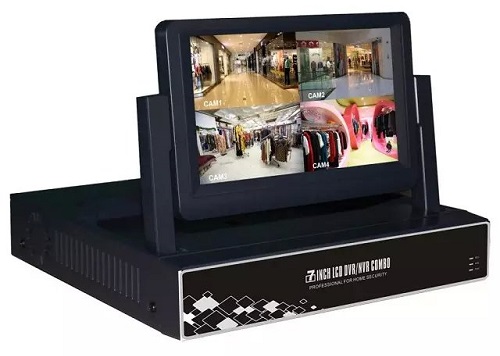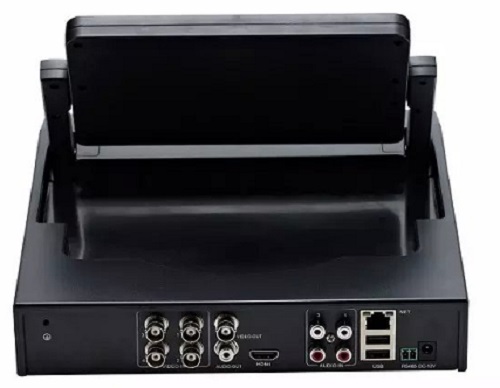 Features
7inch LCD H.264 Network AHD/NVR/DVR
DVR with built-in lcd monitor
H.264 compression algorithm ideal for standalone DVR
Support 1CH 960P/720P Real Time Playback or 2ch 1080P/ 960P/ 720P Real Time Playback
Support 4/8CH 1080P@25fps,4/8CH 960H@25fps.Real Time Recording
Supports SATA HDD (maximal value of each hard disk is up to 4TB)
Support Multi-language: English, Italian, Turkish, Russian, French, Portuguese, Spanish, Polish, Hebrew, Thai, Traditional Chinese, Japanese.
New standard for professional DVR with high performance and competitive price.
Support Mobilephone Surveillance with Symbian , Windows CE,Iphone , Google Android
Dual encoding streams flexible for network transmission and mobile phone monitoring.
Multiple function: Live, Recording, Playback, Backup & Remote access.
Smart video detection: motion detection, camera blank, video loss.
Support 3G & WIFI USB Modem.

Specifications
Model No.
HK-S0704M
HK-S0708M
HK-S0716M
Compression Format
H.264 / G.711
Operation System
Embedded LINUX
Main Processor
Hi3515C
Hi3520D
Hi3520D
Display screen
1/4 screen
1/4/8/9ch screen
1/4/8/9/16ch screen
Analog Video Input
BNC x 4, 1.0VP-P,75O
BNC x 8, 1.0VP-P,75O
BNC x 16, 1.0VP-P,75O
IP Input
4CH IPC Input
16CH IPC Input
16CH IPC Input
Video Output
Monitor:D1;HDMI, VGA:(1280*1024, 1024*768, 1280*720)
Video Standards
PAL(100f/s); NTSC(120f/s)
PAL(200f/s); NTSC(240f/s)
PAL(400f/s); NTSC(480f/s)
Playback quality
720P/960P/1080P
Encode capability
4ch 720P AHD/960P Real Time Recording
8ch 720P AHD/960P Real Time Recording
16ch 720P AHD/960P Real Time Recording
Hybrid: 2ch D1 Analog + 1ch 1080P IP + 1ch 720P IP
Pure network: 2*1080P/4*720P/8*960H/1*1080P+1*720P+2*D1
Record Quality
4*720P@25fps/4*AHD-L@25fps
8*960H@25fps/8*D1
16*960H@25fps/16*D1
Playback quality
1*720P@25fps/4*AHD-L@25fps
8*D1@25fps/1*960H
16*D1@25fps/1*960H
Decode capability
1ch 960P/720P Real Time Playback
2ch 1080P/ 960P/ 720P Real Time Playback
2ch 1080P/ 960P/ 720P Real Time Playback
Recording Mode
Manual / Timer / Motion
Audio Input/Output
1 audio input, 1 audio output (RCA)
Hard Disk Storage
1 * SATA HDD (capacity up to 4TB)
Multiplex Operation
Live display / record / playback / backup / network operations
Backup Device
USB 2.0 flash drive / USB moving Hard disk / Network
Network Protocol
Onvif2.0 or above, DHCP, PPPOE, FTP, DNS, DDNS, NTP, UPNP, EMAIL, IP authority, IP search, Alarm center
Ethernet
10/100 Base-T. Supports remote control and live view via Ethernet
Web Interface
Internet Explorer (10 users access simultaneously)
Operating System: Windows Vista / XP / 2000,Win 7
VGA Interface
Built-in
Video Loss Detection
Yes
PTZ Control
1*RS485 port, Support more than 20 kinds protocols.
USB Port
2*USB 2.0 port
Power Source
12V/3A DC(±10%)
Dimension
1U, 250mm(L)* 240mm(W)* 46mm(H)
Working Temperature
-10 ~ +55°C
Working Humidity
10%- 90%
Weight
2.6KG(No HDD)
*Design and specifications are subject to change without notice.