Home
>>
Products
>>
DVR card
>>
Hardware compression DVR card
>>
Dahua series
>> VEC0804LC, VEC1604LC
8/16 Channel CIF Compression Card
VEC0804LC, VEC1604LC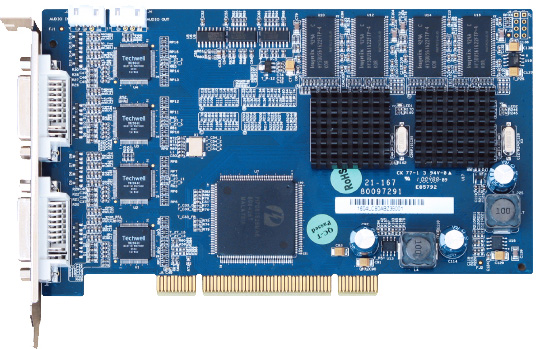 Features
H.264 hardware compression algorithm for high compression ratio and excellent image quality.
8/16 channels CIF or 2/4 channels 4CIF(D1) realtime recoding and dual encoding stream supported, also support 8/16 channels 4CIF(D1)/2CIF/HD1 non-real time recoding (VEC0804LCN without audio encoding).
Support 4CIF/CIF/QCIF real-time preview for up to 64 cameras.
Video detection supports Motion detection, Video loss and Video block.
Support OSD/LOGO overlay, Privacy masking, Frame rate and Bit rate dynamically adjusted etc.
Provide full SDK with Windows and Linux operation system.
Compatible with full range of Dahua's Compression card.


Specifications
Model #
VEC1604LC
VEC0804LC
VEC0804LCN
Encoding Chip
VS2801
PCI Standard
PCI 2.2
Video
Input
16 channel, BNC(1.0Vp-p, 75Ω
8 channel, BNC(1.0Vp-p, 75Ω
Standard
NTSC(525Line, 60f/s), PAL(625Line, 50f/s)
Preview Resolution
4CIF/CIF/QCIF
Compression
H.264
Encoding Resolution
NTSC: 704×480(4CIF/D1), 704×240(2CIF), 352×480(HD1), 352×240(CIF), 176×120(QCIF); PAL: 704×576(4CIF/D1), 704×288(2CIF), 352×576(HD1), 352×288(CIF), 176×144(QCIF)
Encoding Speed
Main Stream: 16 channel CIF or 4 channel 4CIF(D1) with 25/30fps; 16 channel 2CIF/HD1 with 12/15fps, 4CIF(D1) with 6/7fps
Main Stream: 8 channel CIF or 2 channel 4CIF(D1) with 25/30fps; 8 channel 2CIF/HD1 with 12/15fps, 4CIF(D1) with 6/7fps
Bit Rate
32Kbps~4Mbps
Audio
Input
16 channel, BNC(200-2800mV, 30KΩ)
8 channel, BNC(200-2800mV, 30KΩ)
/
Compression
PCM/G.711
PCM/G.711
/
Sampling Rate
8bit/8KHz
8bit/8KHz
/
Bit Rate
64Kbps
64Kbps
/
System Requirement
Operating System
Windows 2000/XP/2003/Vista/7, Linux
CPU
Intel or AMD
Motherboard
Based on Intel or AMD chipset, PCI 2.2 slot
Memory
256MB or above
Graphics
NVIDIA, AMD-ATI, Intel graphics cards, memory 64MB or above
Environmental
Working Environment
-10~+55℃ / 10~90%RH / 86~106kpa
Power Requirement
5V±10%, 3.3V±10%
Power Consumption
6W
3W
3W
Dimension
182.5mm×106.6mm
152.5mm×93.2mm
145.5mm×85.2mm