Home
>>
Products
>>
PTZ camera
>>
economical PTZ camera
>> HK-GV8277, HK-GV8182, HK-GV8272, HK-GV7270, HK-GV8222
Outdoor Waterproof Economical PTZ Camera
Model number: HK-GV8277, HK-GV8182, HK-GV8272, HK-GV7270, HK-GV8222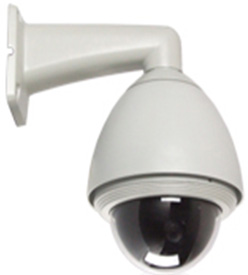 Product Features
128 preset points
8 groups multiple cruise, every group 16 preset points.
programmable setting cruise speed between presets and presets stick time, 1~64 level cruise speed setting and 1~60 second preset stick time.
Color 18X, 22X, 27X optical camera module.
proportional zooming, reduce pan/tile speed according to zooming level, ensure clear and balanced image, get the best picture.
Inbuilt multiple protocol, allow any system.
Power-off information protect and inbuilt surge, lightning strike protection device.


Specifications
Model No.
HK-GV8222
HK-GV8182
HK-GV8272
HK-GV8277
HK-GV7270
Image Sensor
1/4 Supper HAD CCD
1/4 Sony Exview CCD
1/4 Sony Exview CCD
1/3 Sony Exview CCD
1/4 Sony Exview HAD CCD
Total Pixels
380,000
440,000
440,000
470,000
470,000
Resolution
480TVLs
540TVLs
700TVLs
470TVLs
Lens
f=4.1~73.8mm
f=3.25~88mm
f=3.6~98mm
f= 3.9~89.7mm
Zoom
22X Optical Zoom 10X Digital Zoom
18X Optical Zoom 12X Digital Zoom
27X Optical Zoom 10X Digital Zoom
27X Optical Zoom
All-in-one camera
CNB or YOKO
Sony 480CP
LG or CNB
Hyking
Horizontal Angle of View
48.0°(wide), 2.8°(tele)
54.0°(wide),2.5° (tele)
55.0°(wide), 2.4° (tele)
57.8°(wide), 1.7° (tele)
Minimum illumination
Color 1.0Lux B/W 0.01Lux
Color 0.7Lux B/W 0.002Lux
Color 0.003Lux B/W 0.0001Lux
Color 0.01Lux B/W 0.005Lux
Color 0.5Lux B/W 0.08lux
S/N Ratio
> 50dB
Electric shutter
1/50~1/10000s
1/1~1/10000s
1/50~1/10000s
Privacy Zone
Yes
No
Yes
IR Sensitive
No
Yes
Day/Night
No
Yes
level running
360° continuous revolve, 180° auto flip
Rotate speed
0.5°/S-280°/S level shift, 0.5°/S-280°/S upright shift
Presets points quantity
128pcs program speed and stick time
Cruising Route
8 groups multiple cruise, max to 16 preset points every group
Baud rate
1200/2400/4800/9600 optional
Control protocol
Multi-Protocols
Proportional zooming
Six grade
Power supply
24VAC 3A
Black light compensation
ON/OFF
Video Connector
1.0±0.2Vp-p 75
Focusing system
Auto/Manual
White Balance
AUTO, ATW, Indoor, Outdoor, One Push WB, Manual WB
Auto/Manual
AUTO, ATW, WB, Manual WB
Temperature Storage
-45 ~ 65 °C
Temperature Operation
-40 ~ 60 °C
Installation option
Wall mounting bracket, Suspending installation bracket, in-ceiling
Weight
gross weight: 8.5kg; volume weight: 10.04kg
Package
Box size: 34 * 36 * 41cm
Dimension