Home
>>
Products
>>
Accessories
>>
CCTV Control Keyboard
>> HK-C03
PTZ Control Joystick
Model #: HK-C03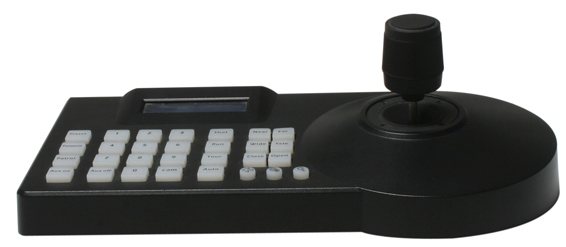 Application
Used in the places where need quick control for the high speed dome camera, PTZ , it is the main equipment for man-machine Interface in surveillant system, can be used as main keyboard or branch keyboard.


Features
The flexibility of system is improved wisely as any equipments connect with RS485 can be set in different protocols and baud rates. Due to all the configuration can be done on the LCD display, it is not needed to look for how to change the protocol.


Display the current control address's agreement and baud-rate real time.

Unique control code study function, the customer can revise the control code instruction voluntarily. 

Refurbish the firmware program on line.

Maximum sub-control:16.

RS485 control bus, control 255 front end address and connect 128 devices in parallel simultaneously at the most.

All input and output communication port use anti-radar design, powerful anti-jamming performance, the standard transmitting distance is 1200 meters.

Keyboard operation password on/off/lock function.

Good communication compatibility, built-in many kinds of agreements.

Key-press warning on/off function. 

Easy backup methods: USB devices, CD-RW/DVD-RW & network download 

LCD display.


Specifications
| | |
| --- | --- |
| Item | HK-C03 |
| Protocol | Pelco-d, Pelco-d, Panasonic, Hikvision etc. |
| Baud rate(bps) | 1200, 2400, 4800, 9600, 19200 |
| Control Address | Control 255 dome camera, decoder at the most, address code: 0-254 |
| Communication Mode | RS485 half-duplex |
| Cascade connection number | 16 sub-control at most, controller ID: 0-15 |
| Joystick | 3D(control: up, down, left, right, zoom) |
| Interface Mode | 5PIN pressing line port |
| Menu and Key-press | English |
| Warning Tone | Key-touch beep on/off |
| Power Supply | DC 12V±10% |
| Power Consumption | 6W MAX |
| Working Temperature | 0-50°C |
| Store Temperature | -20-70°C |
| Dimension (mm) | 420*260*170 |
| Weight (Kg) | 1.3kgs |
Dimension