Home
>>
Products
>>
DVR card
>>
Software compression card
>> HK-6208S, HK-6216S
High Performace H.264 Software Compression DVR Card
Model #: HK-6208S, HK-6216S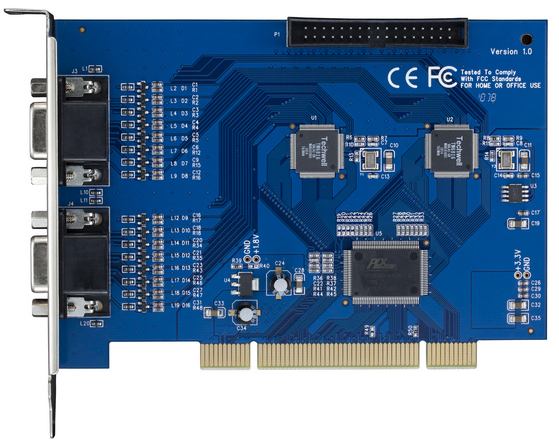 Support max 32chs
Support Intel/AMD mainboard
Support smart phone such as android, iPhone
Support Windows2000/ XP/ VISTA/ WIN7(32bits)
Specifications
Model No.
HK-6208S
HK-6216S
Video/Aduio Input
8/8ch
16/8ch
Video total resources
200/240FPS
Channel
max. 32chs
Display Resolution
1024x768; 1280x1024; 1440x990(wide screen)
Preview Resolution
CIF/D1
Recording Resolution
PAL: CIF(320x240), NTSC: CIF(352x288); Half D1
HDD Occupation
200~300MB/channel/hour/CIF
Compression
H.264/MPEG4 optional
PTZ protocol
Support PELCO-P, PELCO-D, etc
Network protocol
TCP/UDP
Hardware platform
Intel/AMD Chipset, Pentium IV 3.0GHz or higher, Dual-core or Quad-core
Operation system
Windows 2000/ XP/ Vista/ Win7(32bits)
Configuration Requirements
Channel
16CIF
32CIF
Mainboard
AMD or INTEL
CPU
Pentium IV 3.0GHz or higher
Memory
1GB or higher
HDD
1TB/month
1.5TB/month
Function
Network function
DDNS
Almighty search playback
Support 32chs retrieval and simultaneous playback, 1~16X speed for playback, support multi-channel playback drag
Motion detection & alarm
Support motion detection recording and alarm (external alarm case, voice, email, SMS)
Multi-user permission settings
Support multi-user management, different permissions for different level users. All users can login the same domain system to monitor.