Home
>>
Products
>>
DVR card
>>
Software compression card
>> HK-104S
MPEG4 Video Capture Card
Model #: HK-104S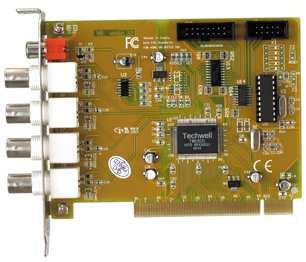 Technical index
Video Compression: MPEG4 software compression
Display and record resolution 320X240/352X288
1-4 channels video input 40f per card. Max 4 cards
1 channels audio input from sound card
1 channel analog switch output
Max 2 channels audio input
120M/h-150M/h hard disk place


alarm control
Use alarm box to make alarm function. RS232/RS485
Communication, max 255 channels alarm input/output.
8 channels input/output each alarm box.
Automatic record when alarm is triggered.
Can control automatic record time when alarm is triggered.
Support channels alarm output, can connect to light, bell, etc. alarm device.
Support motion detection and alarm areas settable
Automatic record when motion detection is triggered, then display the electronic map.


P/T/Z control
Support more than 50 kinds of decode protocol. Can add protocol for customer.
Support speed dome, matrix controller.


Remote control
Can transmit the video and audio signal through LAN, ISDN, ADSL, DDN, etc.
Support P/T/Z control through the network
Support IE browsing. Built-in web server
Replay video and audio signal through network


Record and playback
2-8 channels real-time MPEG4 record
Selectable schedule record, manual record, motion detection triggered record, alarm triggered record.
Search files based on date, event, and channel. Diff speed F.FW and F.FB
Support frame capture and electronic zoom in/out
Support Electronic map and watermark


System requirement
OS: windows 2000/XP
CPU: P3 1G or higher
Memory: At least 128M of RAM (256M required for 16 cameras)
Hard disk: 80G
Mother board: Based on Intel 815/845 chipset or higher.
VGA card: ATI RAGE 128 or higher
Windows Directx8.0 or above