Home
>>
Products
>>
PTZ camera
>> Auto tracking PTZ camera
Auto motion tracking PTZ camera
Model number: HK-SAP8277, HK-SAP8182, HK-SAP8272, HK-SAP8362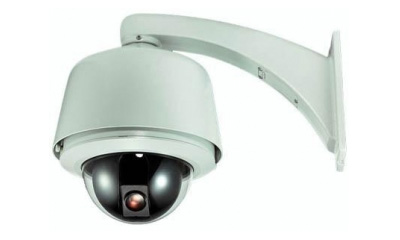 Feature
Motion auto tracking, intelligent surveillance with alarm function
Preset, auto cruise and pattern scan function
Auto tracking function when run a tour
256 preset points.
1 group Pattern
4 group auto Cruise with 30 preset/tour
360° continuous Pan,0° to 90° Tilt From Horizontal Plane, 180° auto flip.
Color 18X, 22X, 27X, 36X optics camera module.
Specifications
Model No.
HK-SAP8277
HK-SAP8182
HK-SAP8272
HK-SAP8362
Image Sensor
1/3" SONY ExView CCD
1/4" SONY ExView CCD
1/4" SONY ExView CCD
1/4" SONY ExView HAD CCD
All-in-one camera
Hyking
Sony 480CP
LG or CNB
Sony 1010
Total Pixels
380,000
440,000
470,000
470,000
Resolution
700 TVLs
480 TVLs
540 TVLs
540 TVLs
Lens

f= 3.9~89.7mm

f=4.1~73.8mm
f=3.25~88mm
f=3.5~122.4mm
Zoom
27X optical zoom, 10X digital zoom
18X optical zoom, 12X digital zoom
27X optical zoom, 10X digital zoom
36X optical zoom, 10X digital zoom
Horizontal Angle of View
48.0°(wide),2.8° (tele)
54.0°(wide),2.5° (tele)
57.8°(wide), 1.7° (tele)
57.8°(wide), 1.7° (tele)
Minimum Illumination
Color 0.01Lux B/W 0.005Lux
Color 0.7Lux B/W 0.002Lux
Color 0.003Lux B/W 0.002Lux
Color 0.7Lux B/W 0.01Lux
S/N Ratio
>50dB
Electronic Shutter
1/50~1/10000s
1/1~1/10000s
1/1~1/10000s
1s~1/10000s
Privacy zone
Yes
IR Induce
No
Yes
Color to Black/White
No
Yes
Panning Range
Pan:0° ~360° continuous;Tilt:0°~90°
Presets
256
Auto Cruise
Auto switch from 0 to 54 preset positions sequentially
Pattern Scan
P/T/Z scan from 55 to 63 preset positions automatically
level running
360° continuous revolve, 180° auto flip
Rotate speed
0.5°/S-400°/S level shift, 0.5°/S-240°/S upright shift
Auto-reset
can set by yourself.
Control protocol
Multi-Protocols
Baud Rate
1200bps;2400bps;4800bps;9600bps;19200bps
Address
0~255
Track Speed
0°~100°/sec
Operation Temperature
0 °C ~ 55 °C
Storage Temperature
-20 °C ~ 60 °C
Power Supply
DC12V 15W
Installation option
Wall mounting bracket,Surface, In-ceiling, Pole
Application
If your application is a large parking lot or an open field and you need the ability to lock on to moving objects, like a person, then this could be the perfect solution. With built in Tracker algorithm this camera continually adjusts pan, tilt and zoom features to center pixel change in its camera¡¯s view. Multiple levels of sensitivity for pixel-change zoom level and response times are integrated into this camera¡¯s on-board programming. This allows you to perfectly marry the camera to the environment. Keep in mind that foliage and/or heavy snow can cause false pixel change so proper environment placement and configuration is essential to limit false events.
It is very common to mount this type of a camera to a drop ceiling in a large room, so drop ceiling mounts are available as well as corner mounts. Camera comes standard with a wall mount.